NiCaDe – Hep/Rota
Intensified Surveillance and Capacity Development in the Diagnosis of Hepatitis and Rotavirus Infections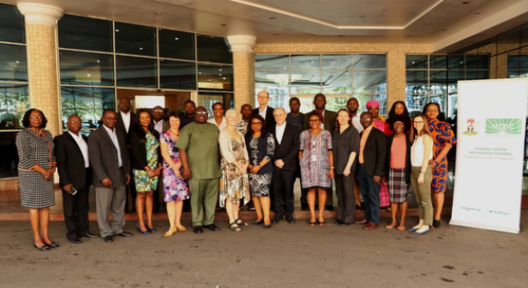 ---
Short description
Hepatitis E (HEV) and Rotavirus (RVA) are associated with a high morbidity and mortality in Nigeria and are therefore of major public health concern. At the same time, the true burden of HEV and RVA is underestimated in Nigeria. Nevertheless, the knowledge on the prevalence and diversity of circulating viral variants in Nigeria has a major impact for the diagnosis, therapy, risk assessment and prevention of these diseases. This subproject is intended to foster Nigeria's efforts to achieve the WHO goal of eliminating viral hepatitis until 2030 and the United Nations Sustainable Development Goal 3, target 3.2 to minimise infant mortality from RVA infections causing severe diarrhoea.
Objectives
The main aim of this subproject is the implementation of a modern, intensified molecular surveillance (IMS) for HEV and RVA. In addition, already successfully established bi-national postgraduate education programmes and practical training of Nigerian students, as well as the training of researchers from Nigeria will be expanded.
The aims shall be achieved by:
Establishment of sentinel sites from different regions in Nigeria.
Preparation of guidelines and Standard Operating Procedure (SOP) for sample collection and methodological work for the diagnosis and fine typing of HEV and RVA in terms of intensified molecular surveillance (IMS).
Application for ethical approval for the sub-project at the responsible ethics committees in Nigeria.
Collection and asservation of blood and stool samples.
Molecular analysis of samples and development of a data- and biobank at the NCDC.
Training of healthcare professionals on molecular-epidemiological methods.
Training of selected Nigerian students (PhD, Master, Bachelor) and guest scientists at the RKI, carried out by postdocs and heads of laboratories.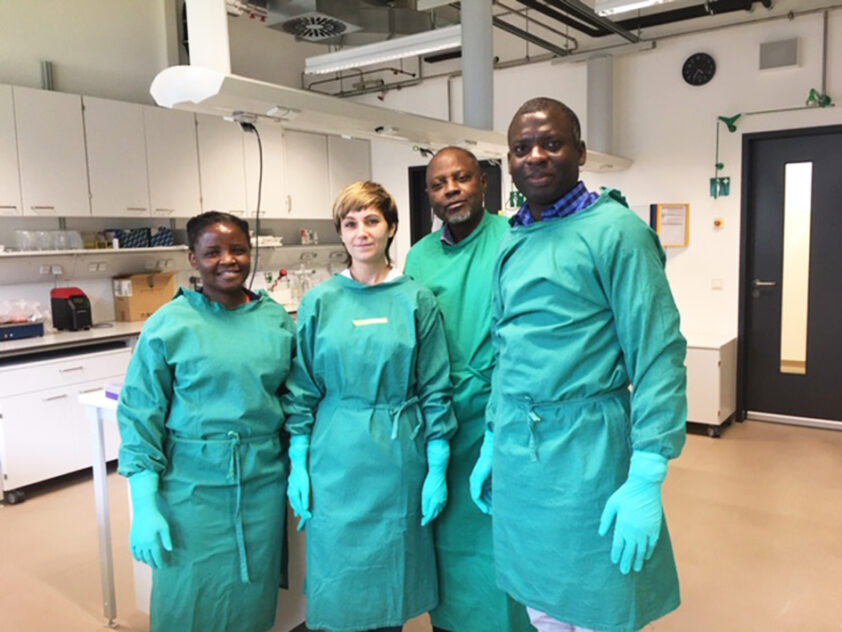 Overview of activities
January 2019: Kick-Off meeting and first workshop on the HEV/RVA-surveillance in Abuja, Nigeria, with appointment of the sentinel sites for the HEV- and RVA-IMS.
August 2019: Finalisation of the guidelines for the HEV- and RVA-IMS and standard operation procedures (SOP) for the methodological work for the diagnosis and fine typing of HEV und RVA.
October 2019: Workshops and training of the staff of sentinel sites for collection and preparing of samples at NCDC. Visit of German health Minister at NCDC.
February 2020: Finalisation of the update 2020 of the guidelines and SOP for the HEV- and RVA-IMS in cooperation with NCDC, the sentinel sites, and RKI.
April 2020: Ethical approval for the subproject 2 has been obtained for NCDC and Aminu Kano Teaching Hospital by the ethics committees of the responsible institutions.
May 2020: Data of the pilot study were published (Osundare et al. Hepatitis E Virus Seroprevalence and Associated Risk Factors in Apparently Healthy Individuals from Osun State, Nigeria. Pathogens 2020, 9, 392. doi: 10.3390/pathogens9050392).
November 2020: Activation of sentinel sites and start of sample collection and analysis.
Since April 2019: Visit of 5 Nigerian guest scientists at the RKI.
Due to the close involvement of team members from the NCDC, the hospital sentinel sites (some of which were converted, by Government, to COVID-19 management centres at the time) and the RKI in managing the COVID-19 pandemic as well as measures like contact and travel restrictions project activities were severely impacted in 2020 and 2021.
March 2020: Update of the protocol on the molecular surveillance and capacity development in the diagnosis of hepatitis E and rotavirus infections in Nigeria.

Summer 2020: Ethical clearance from the institutional ethical review boards of the sentinel sites was obtained.

Fall 2020:

Materials for diagnosing hepatitis and rotavirus infections, consent and data-capturing forms and the updated protocol have been distributed to the sentinel sites.

November

2020: Interactive workshops on methodological and

diagnostic aspects of the project have been conducted at the sentinel sites. Four sentinel sites were activated and started collecting samples.

December 2020: First samples

of individuals with suspected hepatitis or rotavirus infection have been collected.

Spring 2021: Efforts have been made to expand the surveillance to special HEV risk groups like refugees and internally displaced persons (IDPs).

August 2021: Supervision visits were conducted at the sentinel sites to discuss the first 6 months of surveillance and to perform on-site training.

October 2021: A first HEV surveillance project was performed at IDP camps in Borno state (North-Nigeria).

December 2021: Annual review meeting of the NiCaDe-team in Abuja.
Last update: February 2022