Exchange with WHO SEARO in the Context of the COVID-19 Pandemic
Multinational exchange with Member States in the WHO South East Asia Region on their crisis management experience including emergency operations centres, successes and challenges in dealing with the COVID-19 situation.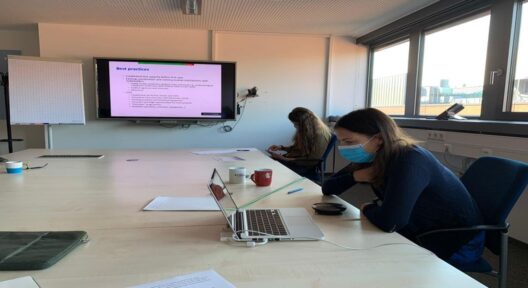 ---
Background
The RKI, together with the World Health Organization Regional Office in South East Asia (WHO SEARO), is implementing a project to strengthen Public Health Emergency Operations Centres (PHEOC). On 23 September 2020, RKI held a virtual meeting with all 11 member states together with WHO SEARO.
The aim was to exchange experiences as well as successes and challenges of participants' PHEOCs during the COVID-19 pandemic. Invited participants were persons actively working in the crisis management/PHEOC of the respective national health ministry or WHO country office.
Implementation
After a short introduction by WHO SEARO and RKI, the experience of the COVID-19 crisis management in Germany and the PHEOC of the RKI was presented. Afterwards, the majority of Member States presented their experience, successes and challenges in PHEOC operations and response to the COVID-19 pandemic. In addition to the virtual exchange of about 2 hours, there was an online survey where the countries could answer questions about their respective PHEOCs and their operationalisation. So far, half of the member states have responded.
Evaluation and results
A total of 54 people from 13 countries (Bangladesh, Bhutan, East Timor, India, Indonesia, Germany, Maldives, Myanmar, Nepal, North Korea, Singapore, Sri Lanka, Thailand) took part in the meeting; the exchange of experiences was appreciated by all participants. Common challenges identified were the lack of trained and competent personnel to staff the PHEOCs, the updating and implementation of plans, strategies, guidelines and SOPs, the improvement of data collection and information management as well as the coordination mechanisms between the various authorities and stakeholders at national and sub-national level.
Outlook
Together with WHO SEARO it will be decided whether further web seminars in smaller groups will be held in the near future. The results of these web seminars will be used for the planning of ProTECt project activities in the coming year. A capacity building concept is planned for 2021, which will include a training, workshop and exercise package based on theoretical and scenario-based modules that can be adapted to the national context. This will then be piloted in one of the Member States.
Date: October 2020