Stakeholder Meetings in Sierra Leone on Health System Resilience
In November 2022, stakeholder meetings were held in Sierra Leone to present and discuss early findings of two GHPP research projects on the resilience of health systems: ORDER-HC and ACGSL.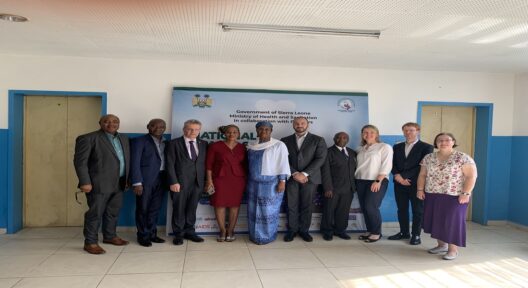 ---
The Robert Koch Institute is keen on sharing research findings with international partners to support evidence-informed decision making. In November 2022, a team of two RKI units and their local partner, College of Medicine & Allied Health Sciences (COMAHS), co-organised stakeholder workshops to present and discuss early findings of two research projects on the resilience of the health system of Sierra Leone: The ORDER-HC study on 'Strategies to maintain routine health care during the Ebola Virus Disease epidemic (2014-2016), subsequent Lassa fever outbreaks and the COVID-19 pandemic: experiences from Sierra Leone' and the research project ACGSL – Assessing the impact of the COVID-19 pandemic in Guinea and Sierra Leone: the case of malaria. 
The workshop in Freetown took place over two days, starting at the University of Sierra Leone, and ending with the Ministry of Health and Sanitation, the National Malaria Control Programme, and representatives of the District Health Management Teams, in addition to post-graduate students of the Master of Public Health Programme and other health sciences, as well as in presence of the Ambassador of Germany to Sierra Leone.
As both projects work with the same partner COMAHS and the topics are complementary, the workshops used the opportunity to discuss the respective research findings as to how they relate to each other. Attendees on both days took pride in the positive results the ACGSL study indicated around the resilience of their health system throughout the COVID-19 pandemic. The findings of the ORDER-HC study further shed some light into how the health system was able to continue providing routine services during the current pandemic. The study identified challenges and facilitators for maintaining routine health care during epidemics, as well as measures applied, lessons learnt and examples of the transformative capacity of the heath system.
Date: December 2022