Tracking Down the Ebola Reservoir
Since 2014 the world public has been thinking of West Africa with the keyword 'Ebola'. However, the highly pathogenic agent, the Zaire Ebola virus, was discovered in 1976 in the Democratic Republic of Congo (DRC), the former Zaire, where it has since regularly led to disease outbreaks.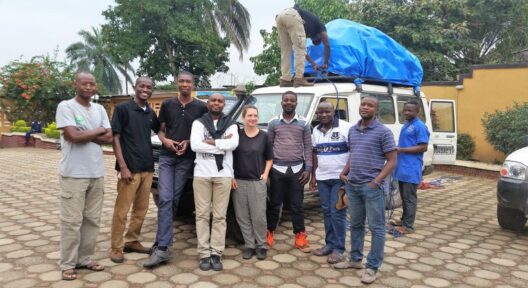 ---
The latest Ebola outbreak in the DRC was announced on 11 May 2017. With only eight cases, the chain of infection could be quickly interrupted and was confined to the remote 'Likati Health Zone' in the province of Bas-Uélé in the northeast of the DRC. The outbreak was declared over on 2 July 2017. However, where and by what route the index patient became infected with the virus remained as often unclear. To get to the bottom of these questions, a collaboration between Prof. Jean-Jacques Muyembe of the National Institute for Research in Biomedical Research (INRB) in Kinshasa (DRC) and Dr. Fabian Leendertz formed an international consortium. This multidisciplinary team of experts, whose activities are still ongoing, is made up of scientists from the INRB, the 'Centre de Surveillance de la Biodiversité' (CSB) at the University of Kisangani (DRC), the 'Institut de Recherche pour le Développement' (IRD) in Montpellier (France) and Yaoundé (Cameroun), the University of Antwerp (Belgium), the 'National Institute of Allergy and Infectious Diseases' (NIH / NIAID) in Montana (USA) and the project group 'Epidemiology of highly pathogenic agents' of the RKI. The practical coordination will be done by Prof. Steve Ahuka from the INRB. Biologist Leonce Kouadio and veterinarian Ariane Düx from the project group were part of the response team and spent a month in Kaigbono, the tiny fishing village where the index patient lived and fell ill.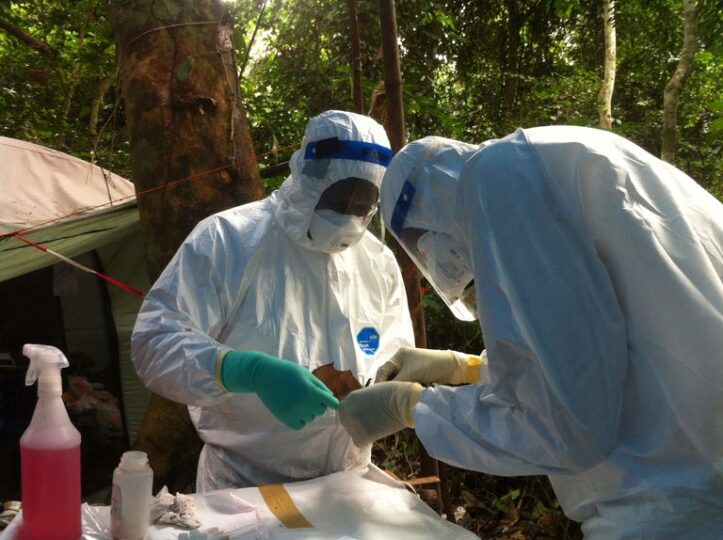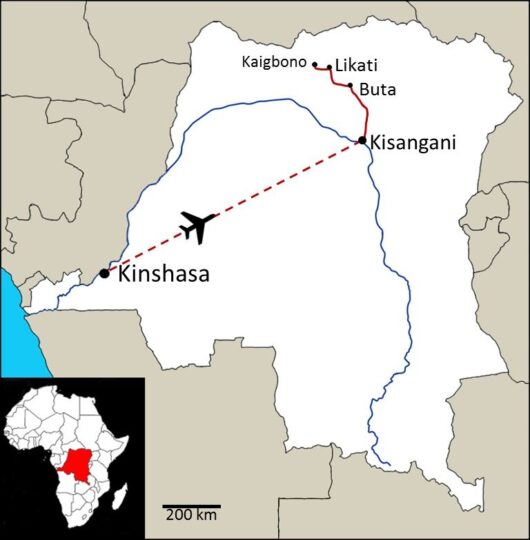 The place, no more than a handful of clay and bamboo huts, is secluded in the tropical rainforest and can only be reached via a narrow forest path. Electricity, mobile phone reception and road construction have not arrived here yet. Accordingly, passenger and material transport were a logistical challenge. A first team arrived with 12 people, a second with eight to set up a mobile field laboratory on site, which meets the highest safety standards and to investigate potential sources of infection. Possible spillover scenarios include the preparation and consumption of infected bushmeat as well as contact with bats and other natural reservoirs. People were questioned and fruit bats, bats, rodents and bushmeat in the region were sampled. Hundreds of collected samples are currently being analysed at the INRB with the support of all partners involved. The cooperation of various renowned institutions under the coordination of our African partners has been a most enjoyable experience and hopefully serves as an example for future investigations, in order to understand the origin of epidemics in addition to combating outbreaks. This knowledge can be used in the future specifically for the elucidation and at best prevention of outbreaks of zoonotic origin.