EMT TT: Emergency Medical Team Twinning & Training
Establishing Partnerships Between EMTs from Germany and Partner Countries, Training Experts for EMT Coordination Activities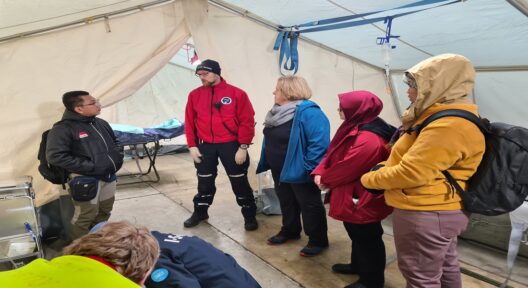 ---
Short Description
Emergency Medical Teams for medical assistance in health emergencies
Emergency Medical Teams (EMTs) are teams of doctors, nurses and logisticians which deploy to an affected country in response to disasters and disease outbreaks. By treating the affected population, they provide surge capacity to support the local health system. To ensure internationally agreed quality standards and global coordination, the World Health Organization (WHO) has established a classification process in which minimum medical and technical standards must be demonstrated. The priorities of the WHO EMT initiative are to build national EMT capacities in countries with scarce resources and high disaster risk, and to strengthen (inter)national coordination mechanisms.
A) Emergency Medical Team Twinning
Twinning pairs a classified German EMT with an EMT in a partner country in a long-term partnership. Joint workshops, trainings and field exercises in both countries enable an exchange of experience and the training of emergency staff. Twinning strengthens national EMT capacities and improves the cooperation of international teams in the field. The German National Focal Point for EMTs (EMT NFP) at the Robert Koch Institute (RKI) cooperates with EMTs from Georgia (LEPL Emergency Situations Coordination and Urgent Assistance Center) and Indonesia (Muhammadiyah Disaster Management Center) and two German EMTs, the Arbeiter-Samariter-Bund and I.S.A.R. Germany.
B) Emergency Medical Team Coordination Cell Training
An EMT Coordination Cell (EMTCC) coordinates national and international EMTs during disasters. This cell is normally located at the Ministry of Health and is operated by specially trained staff of the Ministry, WHO and international EMTs. Experience from recent EMT missions, e.g. during tropical storm Idai in Mozambique in 2019, again showed a shortage of EMTCC-trained personnel. Moreover, many Ministries of Health are not familiar with the EMTCC methodology. Based on the existing training concept, the EMT NFP at RKI will organise an EMTCC training course for 24 participants from the WHO-EURO and -Africa (AFRO) regions, including staff from Ministries of Health, WHO and EMTs.
Aim of the Project
A) Emergency Medical Team Twinning
Strengthening national EMT capacities in partner countries and improving cooperation between international EMTs in the field.
B) Emergency Medical Team Coordination Cell Training
Strengthening the EMTCC coordination mechanism and national rapid response capability. This is to be achieved through an EMTCC training course with a large number of participants from national health authorities and EMTs of priority countries with a high disaster risk.
Further Information
The Twinning project supports partner countries in setting up EMTs, which in turn is an important contribution to strengthening the crisis response capacities of the health sector. After undergoing the classification process, EMTs in partner countries are ready for national, regional or even global deployments. In addition, long-term EMT-partnerships are initiated, which ensure rapid and low-threshold deployments in the event of a disaster and foster the cooperation between teams in the field. The strengthening of the EMTCC coordination mechanism contributes significantly to the national crisis response capacity of the participating countries and facilitates the coordination of national and international EMTs.
In Cooperation with
LEPL Emergency Situations Coordination and Urgent Assistance Center, Georgia
Muhammadiyah Disaster Management Center (MDMC), Indonesia
World Health Organization (WHO), Secretariat of the WHO EMT Initiative, Switzerland
WHO Regional Office for Europe, Denmark
WHO Regional Office for South East Asia, India
Arbeiter-Samariter-Bund, Germany
International Search and Rescue Germany e. V. (I.S.A.R. Germany), Germany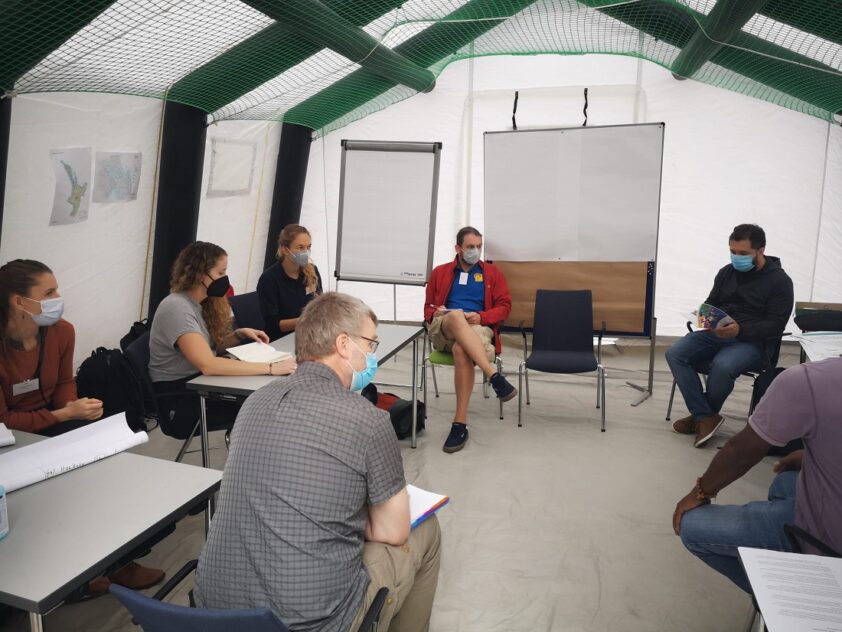 Last update: December 2022