IDEA: Identification of Emerging Agents
Strengthening Diagnostic Capacities for the Detection of Infectious Diseases in Sri Lanka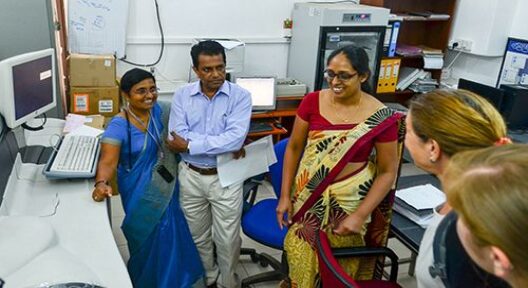 ---
Short Description
The early identification of pathogens plays an important role in controlling outbreaks of infectious diseases. The IDEA project will strengthen the diagnostic capacity for rapid detection of emerging infectious diseases in partner countries and will gradually expand to include public health-relevant pathogens.
Through community studies on the occurrence of pathogens in the partner country and by increasing existing diagnostic methods, country-specific questions are being developed with regard to the characterisation of highly pathogenic infectious diseases. The staff is trained in new diagnostic methods and learns to use them routinely.
In addition, the project targets emerging infectious diseases that have yielded a negative result using the available diagnostic methods, but which produce typical symptoms of the disease in multiple patients. In partnership, scientists from the partner institutions are involved in all steps of pathogen identification and isolation and, together with the scientists at Robert Koch Institute (RKI), develop new diagnostic test systems that are able to identify the novel pathogens.
Aims of the Project
Support the elucidation and investigation of public health-relevant viral outbreaks in the partner country.
In Cooperation with
University of Colombo (UoC), Sri Lanka
North Colombo Teaching Hospital Ragama (NCTH), Sri Lanka
Last update: March 2022