SURVIN-STP
Molecular SURVeillance of INfectious Diseases in Sao Tome and Principe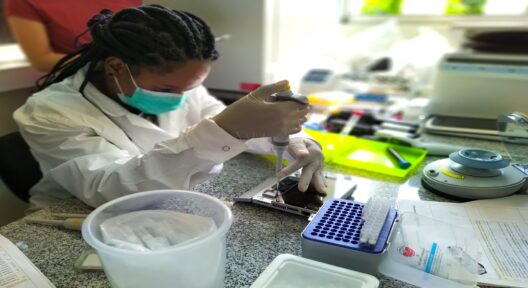 ---
Context
The COVID-19 pandemic revealed the need to increase laboratory capacities in many countries, including the Democratic Republic of Sao Tome and Principe. Since 2020, the BNITM has been supporting the country's Ministry of Health in implementing laboratory diagnostics for SARS-CoV-2 under the SToP-CoV project. Nevertheless, there is still room for further improvement in laboratory diagnostics as molecular surveillance is only provided for SARS-CoV-2. It is necessary to address other pathogens that can cause life-threatening infections and have epidemic or pandemic potential. This became especially clear in April 2022 when the first suspected cases of dengue fever were reported on the island of Sao Tome. It highlighted the need to upgrade laboratory infrastructure and staff to help Sao Tome and Principe be better prepared for and respond to future outbreaks and epidemics. SURVIN-STP builds on the previous project and expands existing cooperation, working with laboratory staff, management staff and laboratory technicians.
Objective
Strengthening local laboratory capacities in the areas of molecular diagnostics and genome sequencing for pathogens with epidemic or pandemic potential, including wastewater surveillance for the detection of antibiotic resistance.
Activities
Staff deployment and exchange

Conducting training for laboratory staff in the fields of molecular diagnostics, genome sequencing and the surveillance of pathogens in wastewater.

Capacity development

Increasing laboratory capacities for molecular diagnostics and genome sequencing; building up a wastewater surveillance system to detect antibiotic resistance.