VaccTrain 2.0
Regulatory Capacity Building in the Field of Vaccines: Training and Advice for Clinical Trials and Pharmacovigilance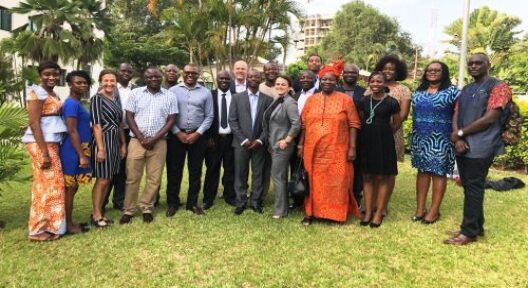 ---
Context
The Ebola epidemic and the COVID-19 pandemic have clearly demonstrated that timely access to safe, effective and affordable medicines and vaccines is vital to prevent and fight infectious diseases and protect public health. Many African countries, however, rely on imports of vaccines because national production capacity is insufficient and regulatory frameworks are limited. The Partnerships for African Vaccine Manufacturing Framework for Action by the African Union aims to resolve this by establishing a sustainable vaccine industry and infrastructure in the continent, including extensive R&D activities, a robust pharmacovigilance system and the development of national regulatory authorities (NRAs). VaccTrain 2.0 was specifically designed to support these efforts and will build on the achievements of the RegTrain-VaccTrain project. It aims to build capacities for the regulatory approval and oversight of clinical trials (CTs) in order to facilitate the development of vaccines. It also supports the establishment of appropriate pharmacovigilance systems to effectively monitor and assess adverse events following immunisation (AEFIs) in vaccination campaigns. When a drug is first approved, knowledge about its safety is limited, and systematic and continuous monitoring is required. The project focuses on sub-Saharan Africa and works closely with NRA personnel and organisations such as AUDA-NEPAD, AMRH, WHO and AVAREF in pursuit of the goal of making quality-assured, efficacious and safe vaccines available to the African population.
Objective
Strengthening the capacity of national medicines regulatory authorities in the areas of CT approval and oversight, pharmacovigilance and post-approval safety monitoring to improve access to quality-assured, safe and effective vaccines in Africa.
In Cooperation with
Food and Drugs Authority (FDA), Ghana,
Liberia Medicines and Health Products Regulatory Authority (LMHRA), Liberia
Medicines Control Agency (MCA), The Gambia
Pharmacy Board of Sierra Leone (PBSL), Sierra Leone
Medicines Control Authority of Zimbabwe (MCAZ), Zimbabwe
Rwanda Food and Drugs Authority (FDA), Rwanda
Agence sénégalaise de Réglementation pharmaceutique (ARP), Senegal
South African Health Products Regulatory Authority (SAHPRA), South Africa
African Union Development Agency, New Partnership for Africa's Development (AUDA-NEPAD) African Medicines Regulatory Harmonization (AMRH) initiative and their technical committees
African Vaccine Regulatory Forum (AVAREF)
World Health Organization Regional Office for Africa (WHO/AFRO)
Activities
Training and competence development

Training and educating NRA employees in pharmacovigilance and CT approval and monitoring.

Networking and cooperation

Supporting regional institutions, such as Regional Centres of Regulatory Excellence, with train-the-trainer programmes; promoting pan-African harmonisation of regulations by supporting and collaborating with AVAREF and WHO.

Capacity development

Supporting regulatory capacity building in the field of CT approval and regulatory oversight; establishing a robust pharmacovigilance system for effective monitoring and evaluation of AEFIs; supporting the development of regulatory processes, guidelines and tools to foster the institutional development of NRAs.