First Summer School on International Health Regulations (2017)
The RKI's first International Health Regulations (IHR) Summer School was held 3-7 July 2017 in Berlin, Germany. The aim of the IHR Summer School was to strengthen IHR (2005) core capacities of interested partner countries in South East Europe, especially regarding infectious disease surveillance, alert and response systems.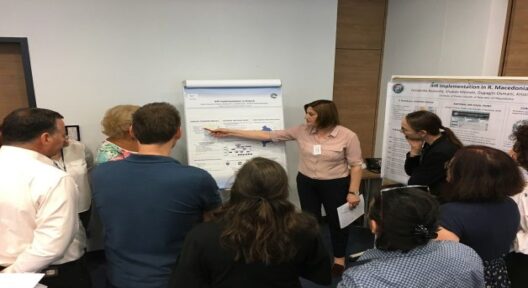 ---
The Surveillance Unit of the Robert Koch Institute (RKI) is holding an IHR Summer School on the IHR (2005) on an annual basis between 2017 and 2020. This is under the German Global Health Programme, financed by the German Ministry of Health (MoH).
The aim of the Summer School is to strengthen the IHR (2005) core capacities of interested partner countries especially regarding infectious disease surveillance, alert and response systems. Twenty three key Public Health professionals from selected countries in South East Europe (Albania, Bosnia & Herzegovina, Kosovo, Montenegro, Macedonia, Serbia) participated in the workshop. Inter-active teaching methods, including moderated discussions (photo 1), a poster session (photo 2) and scenario-based exercises were used to facilitate an intensive exchange of experiences and knowledge between participants. Experts from RKI, the German MoH, Brandenburg Public Health Authority, the European Centre for Disease Control and Prevention (ECDC) and the World Health Organization (WHO)-Europe gave presentations, guided group discussions and facilitated scenario-based exercises. Key sessions were on the identification and international reporting of potential Public Health Emergencies of International Concern (PHEIC), inter-sectoral collaboration and national and international communication during outbreaks, routine and emergency capacities at Points of Entry (PoE) and the new Monitoring and Evaluation Framework of WHO. Site visits to the Emergency Operations Centre at the RKI and Berlin Brandenburg airport rounded off the program, giving practical examples of national core capacity implementation in Germany.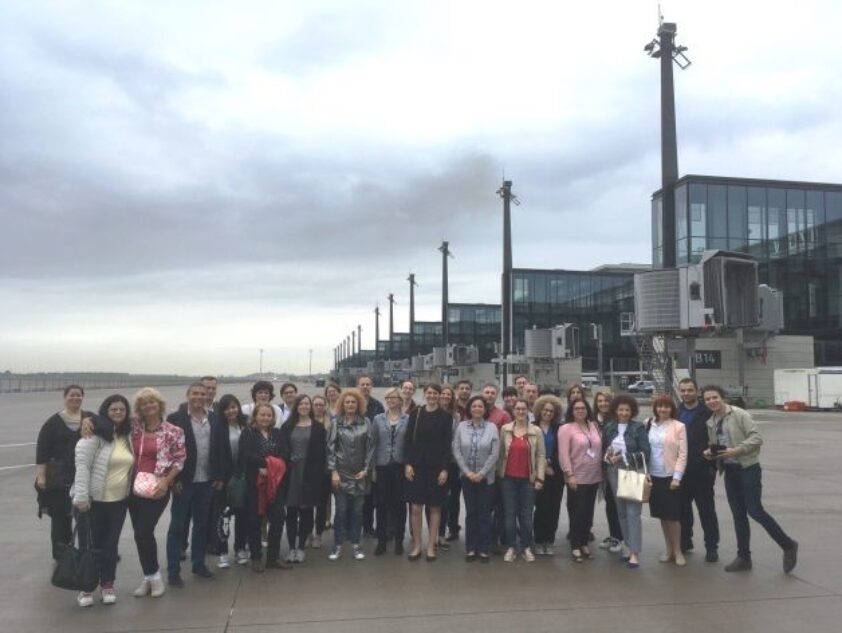 Outcomes
During the week, participants were given the opportunity to discuss and share experiences on IHR (2005) implementation. The importance of the IHR (2005) was emphasised by the participants and increased advocacy with other sectors was considered crucial.
Despite the natural heterogeneity between the represented countries regarding the degree of IHR (2005) implementation and implementation steps regarding national structures and processes, similar needs emerged. In many countries, a mechanism for inter-sectoral co-operation and communication needs to be established. Emphasis was placed on the necessity of a fully functional national IHR Focal Point, which performs both mandatory and optional functions. The development of plans and Memorandums of Understandings for the implementation of PoE core capacities was highlighted. Furthermore, the need for national risk communication plans and standardized methods for national and international risk assessment of disease outbreaks / events was discussed. Simulation exercises and retrospective evaluations of national crisis management of events were identified as useful tools for identifying gaps and opportunities for improvement. There was also agreement on conducting Joint External Evaluations and the implementation of subsequent Action Plans.
The evaluation of the IHR Summer School was extremely positive from both participants and facilitators. The objectives and participant expectations were met and the inter-active teaching methods utilised were very well received. Based on the feedback received, a similar format will be used for future IHR Summer Schools. The next summer school will be held, again in Berlin, in June 2018.