AfroLabNet: African Laboratory Network
Strengthening National Capacities for Outbreak and Crisis Management in Africa as well as Mobile Diagnostic Units in sub-Saharan Africa and Europe for Use in Crisis Situations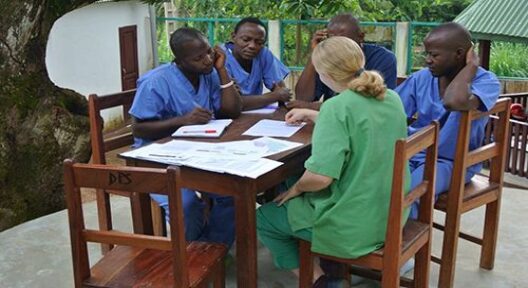 ---
Short Description
The capacity to safely diagnose infectious diseases caused by tropical pathogens with epidemic potential is limited in many African countries. This limitation in diagnostic capacities results in failure to react adequately to outbreaks, which likely contributed to the delayed response observed during the Ebola virus outbreak in West Africa. 
This programme aims to bridge existing gaps and enhance capacity by strengthening infectious disease diagnostic laboratories in Africa, enabling tropical, epidemic, emerging, and rare infectious diseases to be diagnosed on-site.
The project includes two modules, module 1.1 focusing on stationary laboratories and module 1.2 on mobile laboratories.
Aims of the Project
Module 1.1
Gradual expansion of diagnostic capacities in partner countries for rapid detection of emerging infectious diseases
Development of a sustainable, partnership-based concept
Establishment of long-term cooperation in order to respond rapidly in the event of an outbreak and to implement specific research projects within the partnership
Collaborative studies on pathogen occurrence
Module 1.2
Provide Mobile Lab units in Africa and Europe ready for operation, i.e. keep laboratories technologically up-to-date, maintain and replace equipment if necessary.
Carry out further training missions in Europe and Africa to maintain a stable pool of staff for immediate deployment.
In Cooperation with
Module 1.1
Irrua Specialist Teaching Hospital (ISTH), Institute for Lassa Fever Research and Control (ILFRC), Nigeria
Laboratoire des Fièvres Hémorragiques Virales, Centre de Recherche en Virologie (PFHG), Guinea
Laboratoire des Fièvres Hémorragiques Virales de Gueckédou (LFHV-GKD), Guinea
Laboratoire de diagnostic des Fièvres Hémorragiques du Benin (LFHB), Benin
Module 1.2
Irrua Specialist Teaching Hospital (ISTH), Institute for Lassa Fever Research and Control (ILFRC), Nigeria
Robert Koch Institute (RKI), Berlin
Bundeswehr Institute for Microbiology, Germany
National Institute for Infectious Diseases (INMI) Spallanzani, Italy
Participants from all over Europe (Austria, Belgium, France, Great Britain, Hungary, Italy, Portugal, Slovenia, Spain and Switzerland)
Last update: December 2022