ARGOS: Antimicrobial Resistance Global Surveillance
Support in Developing AMR Surveillance Systems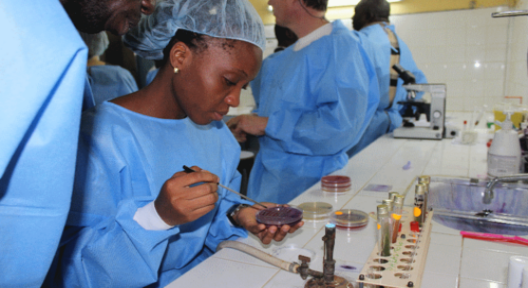 ---
Short Description
Few countries in Sub-Saharan Africa have surveillance systems for antimicrobial resistance (AMR), resulting in significant gaps in data pertaining to bacteria of public health relevance. In cooperation with TRICE, this project aims to enhance resistance diagnostics in partner countries by introducing a blood culture diagnostic system.
Aims of the Project
Together with the partners, a lab-based sentinel system is being installed in selected hospitals. Clinical and socio-demographic data are collected in a national surveillance system. Moreover, there are plans in place for regular on-site personnel training. These activities build on the existing contacts of the BMBF-funded German-African health research network ANDEMIA.
Initially, our efforts are concentrated on the neighboring countries of Côte d'Ivoire and Burkina Faso. With additional funding, the project could be expanded to the Congo. South Africa has expressed interest in joining as a partner in South-South cooperation, given that they already have some existing national surveillance infrastructure in place. WHO documents will serve as blueprints for the development of surveillance systems, in particular the "Global Antimicrobial Resistance Surveillance System", which is currently being drafted.
In Cooperation with
Bouaké University Teaching Hospital (CHU Bouaké), Côte d'Ivoire
Center Muraz (CM), Burkina Faso
Center Hospital University Sourôu Sanou (CHUSS), Burkina Faso
Last update: June 2021