OneHealth Namibia
One Health-oriented Interventions in Namibia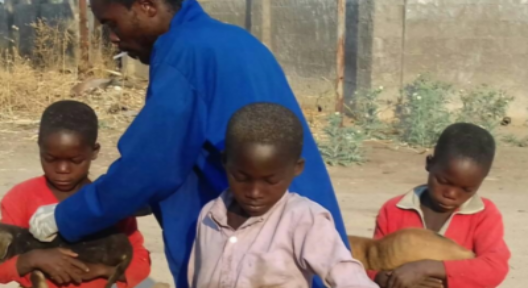 ---
Short Description
Challenges at the human-animal-environment interface (zoonotic diseases, such as rabies, but also food-borne diseases and antimicrobial resistance) continue to have major impacts on health, livelihoods, and economies. Many countries recognise the benefits of taking a 'One Health' approach that is multi-sectoral and multidisciplinary to build national mechanisms for coordination, communication, and collaboration to address health threats at the human-animal-environment interface.
The global strategic plan to eliminate human deaths from dog-mediated rabies by 2030, a collaborative effort by the United Against Rabies Alliance, consisting of the World Health Orgainisation (WHO), the World Organisation for Animal Health (OIE), the Food and Agriculture Organization of the United Nations (FAO), and the Global Alliance for Rabies Control (GARC) is a prime example of a One Health approach. Namibia, in close collaboration with the OIE and with active support of the Friedrich-Loeffler-Institut, has already started to implement a rabies control strategy in dogs focusing on parenteral rabies vaccination.
From 2020, the FLI will provide technical support to conduct a pilot field trial on oral vaccination of dogs against rabies in key hot-spot areas in the Northern Communal Areas of Namibia, using a high safety profile oral rabies vaccine. The implementation of these field trials, as a supplementary measure of mass dog vaccination campaigns, is supported by the OIE and WHO and funded by the German Federal Ministry of Health.
These initiatives allow the FLI to work closely with One Health key stakeholders in Namibia, such as the Ministry of Agriculture, Water and Land Reform (MAWL), the Ministry of Health and Social Services (MoHSS), the Directorate of Veterinary Services and its central veterinary laboratories, the School of Veterinary Medicine at the University of Namibia and many more.
OneHealth Surveillance Systems:
There is only limited information available concerning the structure of the livestock sector and the issues affecting the Namibian livestock sector. However, meaningful monitoring data are essential to establish a sound Animal Health/One Health surveillance system. Therefore, monitoring studies (including AMR) are indispensable. 
In an assessment phase, the FLI will evaluate which data, regarding planning and implementation of Animal Health/One Health studies are required and which of the necessary data may already exist (and in which form) and evaluate, which data sets may still be missing. The FLI will review available systems for data acquisition and analysis and how existing/gathered data can be incorporated into key databases. 
Based on the experiences with different data sources that are frequently used in Germany (TSN, HIT, BALVI, TRACES, TSK), and the respective acquisition and analysis systems, suitability of these German components will be evaluated for potential use in Namibia. Additionally, workshops with the aim to harmonize AMR detection methods will be conducted.
Aims of the Project
Provision of technical and financial support to conduct field trials on oral vaccination of dogs against rabies in key hot-spot areas in the Northern Communal Areas of Namibia along parenteral rabies vaccination in Namibia.
Focussing on animal health/One Health surveillance, the FLI will conduct studies (including AMR) with selected partners to evaluate and prepare existing surveillance data for data management, data analysis and data exchange.
In Cooperation with
Ministry of Agriculture, Water and Land Reform (MAWL), Namibia
Ministry of Health and Social Services (MoHSS), Namibia
Directorate of Veterinary Services (DVS), Namibia
University of Namibia (UNAM): Faculty of Agriculture and Natural Resources: School of Veterinary Medicine (SoVM), Namibia
World Organization for Animal Health (OIE), France
World Health Organization (WHO), Switzerland
Last update: August 2022