Scale-up HIVHEP
Scaling up Monitoring, Control, and Elimination of HIV/AIDS and viral Hepatitis in the WHO European Region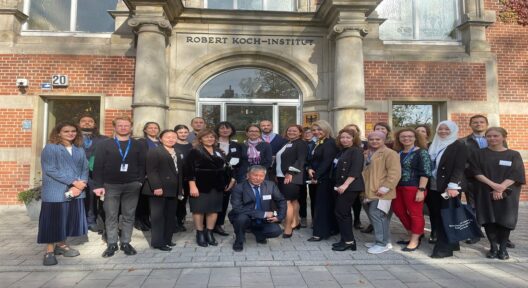 ---
Context
Despite important progress in therapy and prevention, HIV and viral hepatitis are still a major health threat in the WHO European Region. In response, the World Health Organization (WHO) has released action plans with specific targets to eliminate and control these diseases, which are being translated into national programmes by each country. However, several targets have yet to be reached and there is an ongoing need to collect strategic information for the monitoring of process and impact indicators in order to scale up surveillance, control and elimination efforts. The project builds upon the achievements of the preceding project, COVIMPACT, in which the impact of the COVID-19 pandemic on viral hepatitis prevention and control was investigated and control strategies were developed. In the second funding phase, the WHO Collaborating Centre (WHO CC) at RKI is continuing to work jointly with WHO to expand viral hepatitis B and C and HIV monitoring, control and elimination through technical support in WHO Member States in Eastern Europe, Central Asia and the Western Balkans. The WHO CC works with various governmental and non-governmental stakeholders to support the undertaking of studies, to support data collection on the burden of disease and to design recommendations for effective policies to facilitate HIV and viral hepatitis prevention and control, particularly in vulnerable groups.
Objective
Facilitating the surveillance, monitoring, control and elimination of viral hepatitis B, C and HIV/AIDS in WHO European Region countries.
In Cooperation with
WHO Regional Office for Europe (WHO/Europe)
Division of Country Health Programmes (CHP)
Joint Infectious Diseases (JID) Unit, Denmark
WHO Country Offices Republican Scientific and Practical Center for the Control of Viral Infections of the National Institute of Public Health under the Ministry of Health (MoH), Kyrgyzstan
Republican Center for Control of Blood-Borne Viral Hepatitis and Human Immunodeficiency Virus (Republican AIDS Center) under the MoH, Kyrgyzstan
Activities
Research and provision of evidence

Assessment and review of national HIV and viral hepatitis programme policies and strategic information in participating countries; support for countries in collecting data on the disease burden of hepatitis B and C; contribution to the design of behavioural science studies to strengthen targeted prevention interventions in vulnerable groups.

Capacity development

Technical support for implementation of the national HIV and viral hepatitis elimination programme in Kyrgyzstan.