Report from my Training at the Friedrich-Loeffler-Institut
Arrival – I suppose the Pilot had earlier made the announcement for landing, but I was fast asleep, since I kept awake throughout the flight from Nigeria, through Istanbul and then Berlin. Opening my eyes gradually, I could see the well-lighted city of Berlin from the skies. It was such a wonderful sight to behold as it reminded me of scenes from some foreign movies I have seen in the past. The pilot was very professional in the landing which made me not to feel the usual light headedness I normally experience during take-offs and landing. The exit announcement was made and I reached for my back pack and headed towards the exit.
---
As I approached the aircraft door, I was embraced by a different type of cold weather, quite more extreme than what I had prepared for. I quickly adjusted myself, stepped down and made way hurriedly towards the arrivals. At this point, my Nigerian jacket was already beginning to fail me. I quickly reached for my hand-gloves for re-enforcements while I headed for the lounge to identify and pick up my luggage before heading out to the arrival exit point.
A great sigh of relief greeted me when I sighted my Supervisor/Host, Dr. Globig Anja, with a jacket in hand, just as she rightly promised. I was so happy re-uniting with her again after her visit to Nigeria. She handed me the jacket with a hug and I suited up without delay. After my first longest flights of my life, I finally got to Germany and was wonderfully received by one of the most beautiful souls on earth, Dr. Globig and Michael Munkwitz. We headed to the car park and left for Greifswald. It was going to be another three hours of driving. I could not help but continue sleeping for a greater part of the trip while wrapped up in the blanket Dr. Globig provided me with. We arrived Greifswald at about 4:15pm and Dr. Globig suggested we go straight to the shop to procure all that I would need for the week before we get to my reserved apartment, which I happily obliged. After shopping, we headed to the apartment, one of the guest rooms located within the Friedrich-Loeffler-Institute (FLI).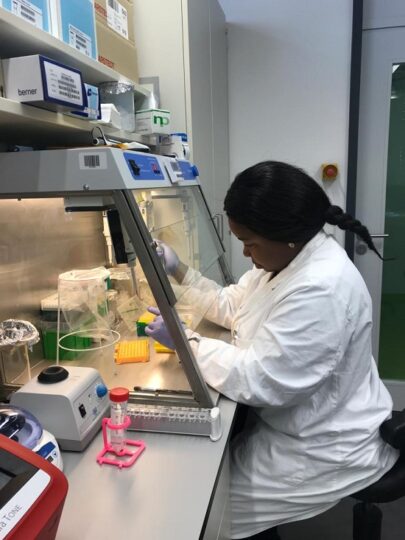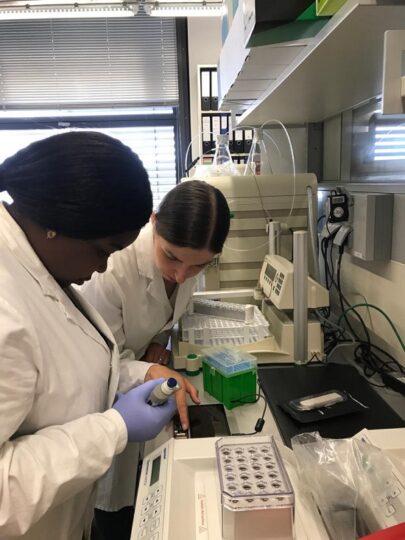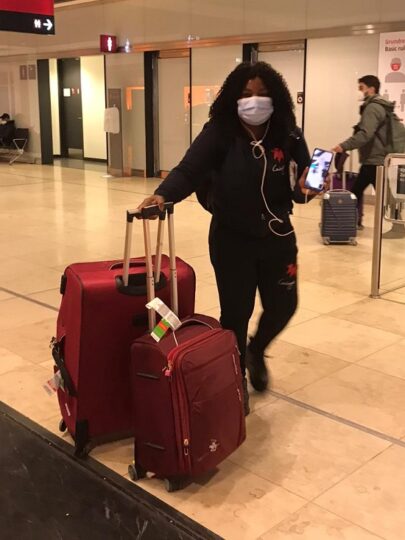 My apartment was already beautifully arranged, with the fittings and accessories all setup to suit the season. I could not help but embrace the heating system in the room which was functioning optimally. Dr. Globig, with Michael Ojo (an ERASMUS MUNDUS student on Masters exchange) helped me setup my internet system and she went on to assure me of a good stay and settling in. She encouraged me to get a good rest and prepare to resume work at the office the next morning being January 12, 2022. I unpacked my bags, freshened up, had my dinner, notified my loved ones of my arrival and after that, went to sleep with hope of waking up early the next morning and refreshed for the huge task ahead.
First Day at the Office
I woke up the next day strong, agile and determined to embrace the next six-months of my life at FLI where I have come for a research training visit from National Veterinary Research Institute, Vom, Nigeria (NVRI), under the project, "Nigeria Addressing COVID-19 through One Health Approach" (NACOH).
Dr. Globig and Dr. Valerie Allendorf welcomed me to the office by 9:00am and assigned me a bench space. She then took me to meet all the staff of the Institute for International Animal Health/One Health (IITG). It was a perfect way to begin as I had the opportunity to interact briefly with each and every one of them and getting to know their areas of research interest and professionalism. After the introductions, I returned to my bench to commence work for the day. The first task before me was to go through the laboratory guideline modules which is a pre-requisite before any commencement of work inside the laboratory. My host notified me that I would be making a presentation to the research group to tell them about my research interests, what I have been doing and the research I would be carrying out during my stay at FLI and the expected outcomes. I found this interesting and accepted to make preparations to that effect, pending when a date is fixed.
Life at FLI the first two weeks was not easy, as I had to make a lot of firm adjustments trying to settle in. Apart from the cold, my other greatest challenge was getting used to the longer day and night variations, which appeared so different a pattern from what is obtainable in Nigeria where we experience equal day and night. Wednesday mornings were designated for weekly shopping and weekends are for recreation when the opportunity avails itself. I also joined a choral group at Brandshagen to sustain my singing hobby. Each new week brought forward new experiences and new mindset.
Life as a trainee at FLI
As the days went by, more students joined the Institute for their internship and we all co-existed like a community. While I waited for my samples to be shipped from NVRI, Dr. Globig got me involved in the sentinel surveillance project where highly pathogenic Avian Influenza is being monitored in ducks. I was taught how to collect samples from the ducks and I also joined the team in carrying out PCR analysis on the samples. She also introduced me to her colleague, Dr. Silvia Dreyer who works on AMR. On my second day at Dr. Dreyer's lab, I met Dr. Anna Michelitsch who was working on a similar project as mine, after discussing with her about my project, she accepted that I join her to learn her research procedures while still waiting for the arrival of my samples from Nigeria. In March, Dr. Globig informed me about the upcoming One Health Conferences in Greifswald, Germany and Barcelona, Spain. She suggested that we could submit abstracts for both and may get lucky to be selected. I obliged at such a rare opportunity and collectively, we were able to come up with both abstracts which got selected for presentations. This was indeed huge for me as it was a great opportunity to attend my first in-person international conference. The one health conference, a poster presentation titled ''Putting Theory into Practice: One health Approach to improve COVID-19 pandemic response in Nigeria was presented in April 27-28, 2022 while the 14th Epizone presentation titled ''Insight into the Virome of Nigerian Fruit Bats'' was presented on May 18-20. During this same period, we also completed a review paper which has been submitted to PLOS Global Health Journal for publication. 
I was also privileged to join Dr. Jacky King who is an expert in Nanopore sequencing. She trained me on sequencing of Avian Influenza samples. I kept myself busy with most of these works until my samples arrived on May 2, 2022. Five Hundred and sixteen (516) inactivated sera samples from various animal species arrived FLI from NVRI, Nigeria. I immediately commenced serological analysis on the samples for the detection of SARS-CoV-2 antibodies. My host also made an arrangement for me to do some further analysis at the BSL3 laboratory with Dr. Donata Hoffmann and Dr Jacob Schön. In this high biosecurity lab, I gained hands-on training on virus neutralization assay with Dr. Jacob as my guide. This analysis yielded some very interesting results, the results inspired us to expand the research by testing for different pathogens on these samples, like investigating for the presence on SARS-CoV-l antibodies. As my work in the lab progresses and after the presentation made by my host in one occasion in FLI, so many scientists from different institute of the FLI became very interested in collaborating with us given the nature of the species of animals we collected the samples from. At this point, they gave many suggestions on the different analysis to be done on the samples, one was to carry out Luminex assay on the bat samples to check for different viral pathogens on the samples. We further did some serology for further confirmation of the results we got from the Luminex assay. This was a great win for me as I had the opportunity to gain experience on the Luminex assay work flow.
My life outside the Laboratory was filled with so many extracurricular activities. I had the opportunity to visit many tourist sites and nearby cities alongside my host and the other students like Berlin, Dresden, Rostock Zoo, Rügen Island etc. 
In all, I have had a long good and productive experience which has gone a long way to sharpen me and widen my laboratory experience and network. It also provided me the opportunity to carry out a good part of my PhD laboratory analysis.
Date: July 2022