PASQUALE
Partnership to Improve Patient Safety and Quality of Care
---
Short Description
PASQUALE is a project to increase patient safety in partner institutions (Faranah Regional Hospital, Guinea; Bouaké University Hospital, Ivory Coast).
This project responds to the "Global Patient Safety Challenges" (GPSC) initiated by the World Health Organization. While PASQUALE 1 used the framework of the first challenge "Clean care is safer care" with a focus on hand hygiene and local disinfectant production, PASQUALE 2 tackles the second challenge "Safe surgery saves lives". Cornerstones of this campaign are the appropriate sterilization of medical devices and the introduction of the "WHO Surgical Safety Checklist", whose effectiveness in reducing morbidity and mortality has been demonstrated in various settings. Patient safety can therefore be sustainably improved by creating systems, training personnel and initiating a culture of error awareness and response.
Aims of the Project
PASQUALE pursues four overarching objectives:
improving hand hygiene by improving knowledge, increasing compliance and supporting local disinfectant production;
improving patient safety in the surgical setting by adapting, implementing and applying the WHO Surgical Safety Checklist;
facilitate sterile preparation of medical devices by providing equipment and instructions for proper use, and
foster error management through cross-hierarchical cooperation.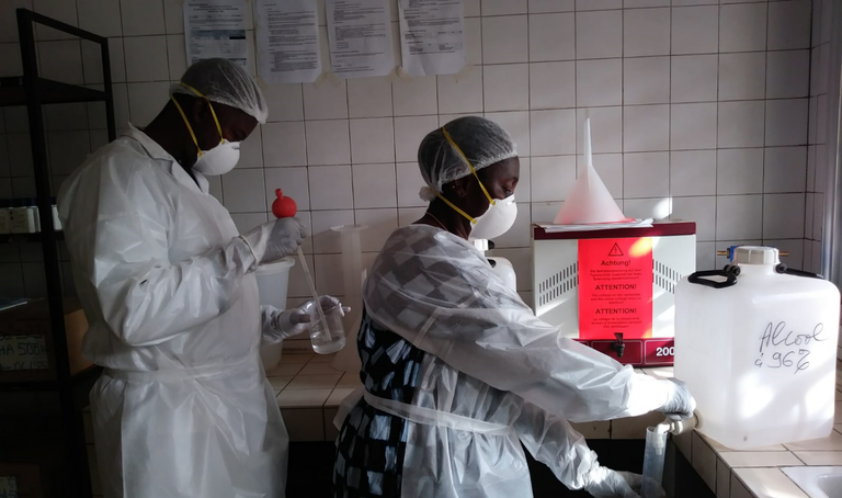 Publications and Presentations
Müller, S., Diallo, A., Rocha, C., Wood, R., Landsmann, L., Camara, B., Schlindwein, L., Tounkara, O., Arvand, M., Diallo, M., Borchert, M. (2021).
Mixed methods study evaluating the implementation of the WHO hand hygiene strategy focusing on alcohol based handrub and training among health care workers in Faranah, Guinea
Müller, S., Diallo, A., Wood, R., Bayo, M., Eckmanns, T., Tounkara, O., Arvand, M., Diallo, M., Borchert, M. (2019). Implementation of the WHO Hand Hygiene Strategy in Faranah Regional Hospital, Guinea. Antimicrob Resist Infect Control 9, 65 (2020). doi: 10.1186/s13756-020-00723-8