DQA and DQA PLUS
Training African National Drug Quality Control Laboratories (NDQCLs) in Quality Assurance and Quality Management in the Context of Combating Antimicrobial Resistance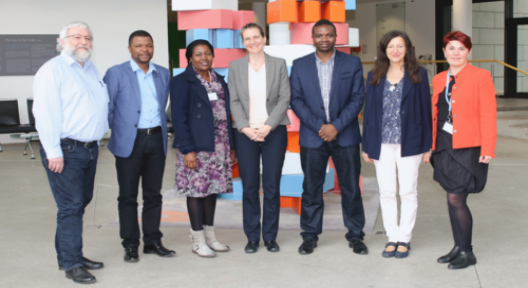 ---
Short Description
Ensuring the availability, quality and integrity of medicinal products worldwide remains critical and challenging for healthcare systems today. Patient safety is at the core of high-quality healthcare. Sub-standard drugs/poor quality products have a negative impact on the safety and effectiveness of treatments as well as directly contributing to the increase and spread of antimicrobial resistance. The training programme is developed in close and coordinated cooperation with the WHO to address this unmet need. The mobility will facilitate transfer of relevant know-how in compliance with international standards. The training modules will assist the staff of the national/regional laboratories to advance their capacity to monitor the quality of products, and detect and investigate substandard medicines.
Special Emphasis will be placed on:
Qualification, calibration and validation of analytical test procedures and equipment
Method development and validation
Equipment calibration, maintenance, service and repair
Quality management according to ISO 17025
Aims of the Project
DQA
Through comprehensive training, the following objectives will be achieved at individual and institutional levels:
Advancement of know-how/set of skills to operate, maintain and employ technology at full capacity, to promote understanding of quality problems as well as provide means to monitor quality of selected medicinal products;
There will be an increase in awareness of current strategies for improving compliance with ISO;
The course will enable national quality control laboratories/local laboratories to advance their overall operational capacity needed to address and meet WHO prequalification requirements.
All in all, the training will promote capacity building and collaborative networking. It will guide the development of a competency framework at multinational level thereby supporting appropriate use of good/high-quality medicines.
DQA PLUS
Scope expansion towards promoting sustainability and increased collaborative actions in planned educational/training approaches.
DQA PLUS is complementary to DQA. The project further strengthens regulatory competencies and laboratory capacities essential for the efficient monitoring of the quality of medicinal products by:
Facilitating relevant education and training through the incorporation of thematically extended training topics into the program;
Extending training actions as well as support to more/further partner countries;
Supporting alumni engagement and connecting the DQA alumni community of analysts from NDQCLs at regional level;
Fostering engagement through disseminating core aims of the training programme. The documentary film will be devoted to presenting work done under DQA and highlighting activities of collaborating institutions to substantiate all of the above.
DQA PLUS aims to make an important contribution to advancing sustainable development in alignment with needs and in compliance with international norms. The additional measures planned will substantiate access to collaborative know-how and will allow partners/national laboratories to address and meet prequalification and or accreditation requirements more effectively.
In Cooperation with
National Regulatory Authorities and their quality control laboratories (NDQCLs) in the following African partner countries: Botswana, Burkina Faso, Cameroon, Ethiopia, Ghana, Malawi, Namibia, Nigeria, Sierra Leone, Senegal, Zambia, Zimbabwe
WHO – Regulation and Safety (WHO-REG), Switzerland
Institute for Pharmaceutical and Applied Analytics (InphA), Germany
Last update: December 2022